This extension is available for Magento 2! Please select the appropriate Magento version in the "Add to Cart" popup when purchasing the extension.
The following new actions will be added to the Sales > Orders action drop-down
:
- Invoice Order: An invoice will be created for each order selected
- Ship Order: A shipment will be created for each order selected
- Complete Order: Order status will be set to "Complete" for each order selected
- Capture Payment: Payment gets captured for invoiced orders. If supported by the payment gateway, "Capture Online" is supported as well.
- Invoice / Ship Order: Combination of "Invoice" and "Ship" action - both actions get executed
- Invoice / Ship / Complete Order: Combination of "Invoice", "Ship" and "Complete" action - all three actions get executed, and the order status gets set to "Complete"
- Print Order: After running one of the above action on orders, instantly print the related PDF documents.
- Delete Order: Order will be deleted if status is "canceled" and no shipments/invoices/credit memos are associated
- Set Order Status: Change the order status to ANY custom order status defined in Magento (supports 3rd party custom order status extensions)
- Re-send "New Order" e-mail to customer
- Uncancel order (and items): Revert the order status from "Canceled" to "Processing" and uncancel the items so the order can be invoiced/shipped.
It is also possible to add tracking numbers to shipments when shipping orders in bulk. For orders that have already been shipped, a tracking link to track the order will be shown instead.
Screenshot (click to zoom):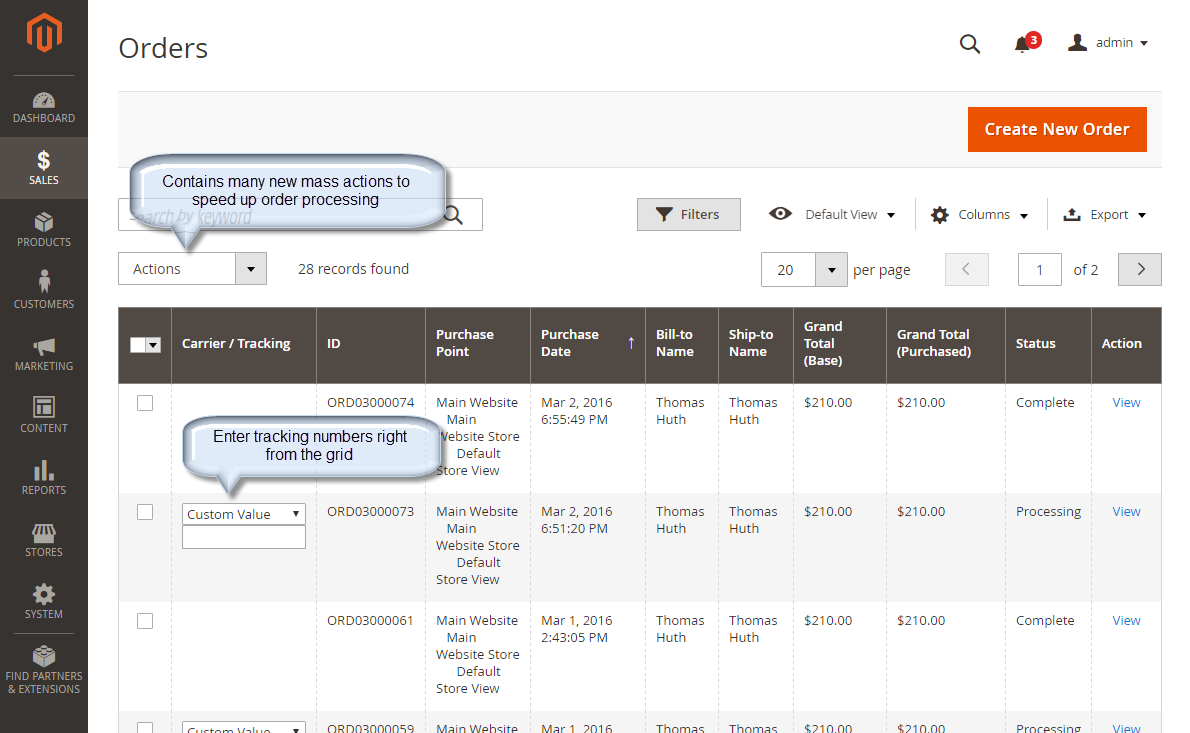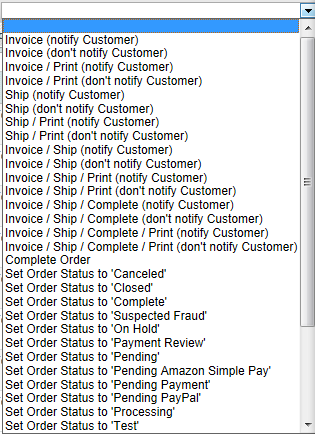 You don't have to show all the actions in the drop-down of course - it is possible to disable specific actions in the configuration section of the module, so you can focus on the actions you really need.
All actions can be set notify your customer (by e-mail (notify option) / no e-mail (don't notify option)) so that your customer knows that their order has been shipped for example, but this can also be done silently without notifying the customer.
If you have any questions regarding this module, please don't hesitate to
contact us
.
Frequently Asked Questions & Support
More information about this extension and answers for frequently asked questions can be found in our
Support Wiki
.