XTENTO is happy to announce the release of a new extension: Order Number Customizer
Customize your Magento order numbers and all other sales related numbers. The number format can be adjusted completely flexible - use letters, prefixes, suffixes, date/time variables, counters or random numbers to protect sales and hide how much you sell from your competitors.
Your benefits at a glance: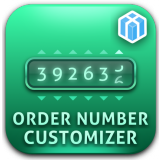 Customize all sales related numbers: Order, invoice, shipment, credit memo numbers
Change number format, use variables, and set a custom starting ID
?Randomize order numbers using random variables - fool your competitors
Supports multi-store environments
Easy configuration, no conflicts
Click here to see all features. Be sure to check out the demo and the screenshots as well.